Your Comprehensive G1 Practice Test Guide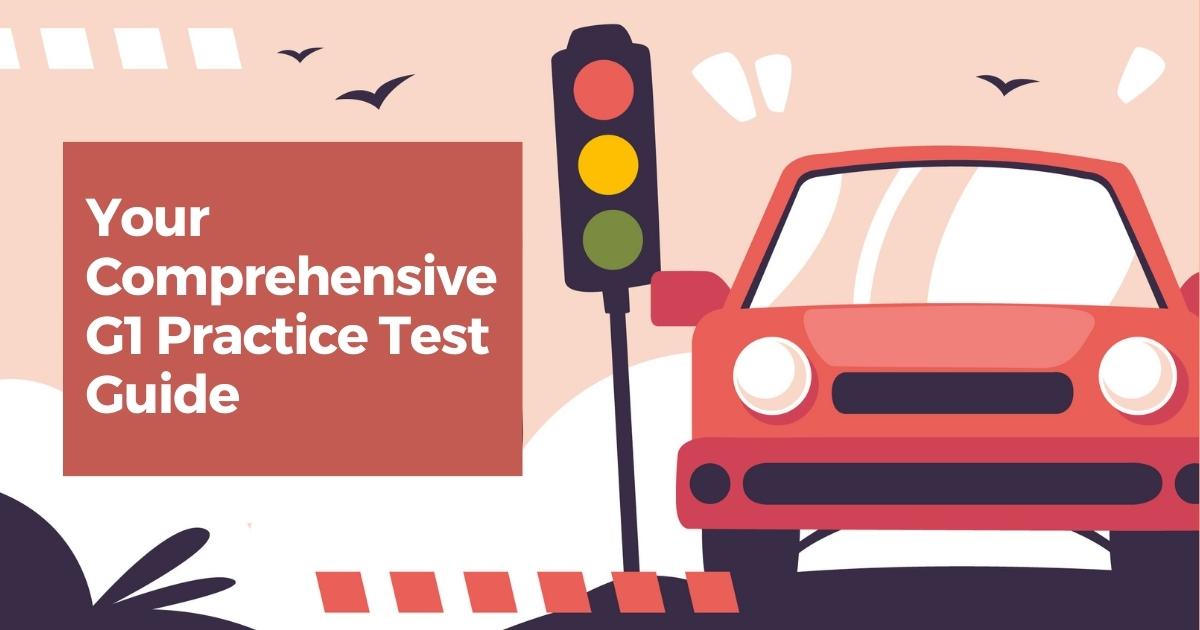 Preparing for your G1 driving test is an exciting step towards obtaining your driver's license. The Ontario G1 test can either be tough or easy depending upon your preparation. Preparing from the MTO Handbook and practicing the mock quizzes can help you in passing the actual exam.
In case you are 16, you can join the graduated driver's license (GDL) program that takes 2 years to complete. Once you have a G1 license, you can drive your vehicle under the supervision of an experienced license-holder driver.
Understanding the Test Format
The Ontario G1 license test is divided into two sections. Each section has 20 MCQs based on road rules and road signs. To pass and qualify for your G1 license, you must answer 16 questions correctly in each section. Candidates are also required to take an eye exam. The test package fee that covers your written exam, G2 drive test, and your physical license is $158.25. In case you failed the written exam, the retake cost is $15.75.
There is no specific time duration to complete the test. However, individuals who are well prepared typically take 20-30 minutes to finish the tests.
Why Practice Tests Matter
The G1 practice test is an important tool for the G1 preparation journey. They simulate the actual exam with similar scenarios MCQs and test difficulty level. Such practice tests make you familiar with the questions that you will encounter in the G1 driving written test. These tests offer a safe space to identify your strengths and weaknesses concerning the syllabus.
Making the Most of Your Practice Tests
We offer a free Ontario practice test with an unlimited number of attempts. By taking various mock tests, you can identify the areas that require additional focus.
Simulate Test Conditions
Treat the practice test as if it were the actual exam. Isolate yourself in a room where there is no distraction and manage your time effectively during the test.
Review Thoroughly
After completing a practice test, review both correct and incorrect answers. Understand the logic behind each answer. This will help you in solving similar questions in an actual exam.
Focus on Weak Areas
Identify topics or question types where you struggle. This way, you can spend more time on the topics that are challenging for you.
Variety Matters
Seek out a variety of practice tests. This will expose you to diverse challenging questions, helping you to learn and memorize the different concepts.
The Benefits of Practice Tests
Practice tests offer various benefits including
Real-Time Feedback
Gone are the days of waiting for your practice test results. With real-time feedback, you will get an instant notification about the accuracy of your answers. If you answered the question incorrectly, the notification alert will let you know and will provide you with the correct answer. This instant correction mechanism not only identifies your mistakes but also allows you to immediately learn from them. It reinforces your understanding and increases your knowledge.
Challenge Bank
Challenge Bank is the game changer. It is a dynamic tool for test preparation and a revolutionary feature that appears at the end of the test. It is a personalized repository that stores all the MCQs that you find to be challenging. You can always visit these questions and learn the concepts behind their answers. The more you interact with challenge banks, the more you refine your knowledge and elevate your readiness for the G1 test.
Updated Questions
Our G1 test doesn't just provide static practice questions. It is a living resource that is continuously updated based on the MTO Handbook. We prioritize accuracy and relevancy. Our practice questions always align with the latest standards and guidelines of the official handbook. You can trust our source for updated practice questions and the latest information. We understand that staying current concerning the traffic rules and regulations is as important as becoming a safe and responsible driver.
Flexible Learning
We prioritize flexible learning. Through flexible learning, you are not bound to rigid class schedules or physical locations. Flexibility extends beyond scheduling. You have access to our comprehensive practice questions, mock quizzes, and study materials – all accessible at your convenience. With us, you can set your own rhythm. If you learned one part of the syllabus, you can proceed to the more challenging one. Our interactive nature of the test ensures that you are actively engaged.