How To Pass THE G1 Test On Your First Try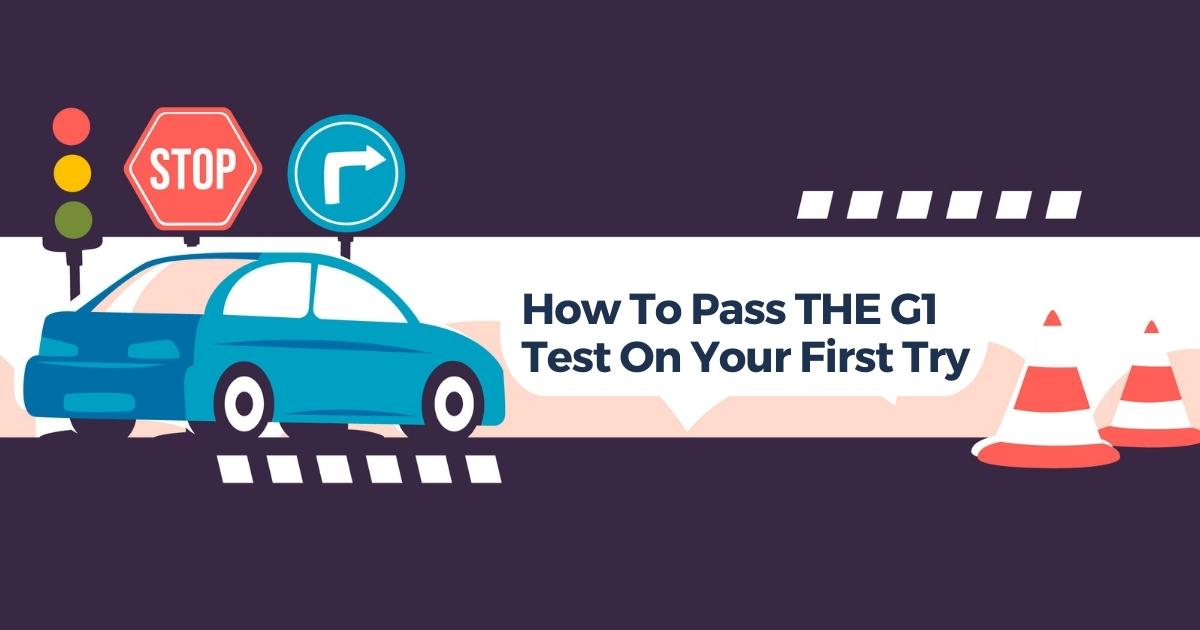 Congratulations on taking the first step toward becoming a licensed driver in Ontario! The G1 Test is the first step that takes you closer to achieving full freedom on the road. Whether you have practiced driving before or are new to the world of driving, acing this test on your first try is within reach. A lot of individuals pass with flying colors on their first try at a theoretical driving test. In this blog, we will provide you with tips and tricks to pass the G1 Test in the first attempt
Learn From The Official MTO Handbook
The key to G1 test success lies in the Official Ministry of Transportation (MTO) Handbook. The updated version of the official MTO Handbook covers all the road signs, rules and laws that you can find in Ontario. Study this book thoroughly and understand the underlying concept. Do not forget to memorize all the road signs because the majority of the questions in the G1 exam cover them.
G1 Theoretical Mock Test
No matter what exam you want to take, taking its mock test is always recommended. The Ontario practice test is as important as the G1 exam. These mock tests are your secret weapon. They simulate the real exam experience, allowing you to familiarize yourself with the format, question types, and difficulty level. Our platform offers a range of practice questions to sharpen your skills.
Mock Tests have various benefits. It gives you real-time feedback or instant notification about the answer you selected. It will also let you know the wrong answer that you selected, rectify it and explain its correct version. You can also get access to the repository called Challenge Bank where all the MCQs that you found to be challenging are saved.
Understand The MCQs
The G1 test has 40 MCQs that are equally divided into two sections. The minimum number of MCQs that you need to answer correctly in each section is 16. Some MCQs are based on road rules and signs and some will ask you about the scenarios. Keep in mind that there is no time limit to the test so read every MCQ more than once. Understand the concept, interpret its meaning and then answer.
Taking Advice from Successful Test Takers
Sometimes, the best insights come from those who have walked in your shoes. Connect with friends or family members who have successfully passed the G1 theoretical test. They can provide valuable advice, share their experiences, and even quiz you on challenging questions. Learning from them can help you to elaborate your perspective and boost your confidence.
The Power of Group Study
Group study is not just a powerful tool but also a game changer. Candidates who prefer group study are never behind their study schedule. It also helps you to understand the challenging topics because, in group study, individuals bring their perspective and understanding of the material. Group discussion can help you in understanding difficult concepts.
The more you explain your concept to your study buddy, the more you can reinforce your understanding. Additionally, you can also take quiz sessions within the group and share your resources like flashcards, and notes to enhance the learning process.
Finding the right study group is crucial. Look for members who are dedicated, focused, and committed to success.
Get Plenty of Sleep
Getting plenty of sleep is important for your brain to rest but is an often overlooked aspect of G1 test preparation. A well rested mind is more focused during the exam and has a great potential to evaluate the questions and their answers. Aim for a regular sleep schedule in the days leading up to your test. Lack of sleep can impair your cognitive abilities, making it harder to tackle complex questions.
G1 Driving Test
After scoring well in the G1 test, you will receive a driving licence known as a driving permit that comes with limitations. You have ample time to learn driving. After 8-12 months, you will be eligible to take a G1 driving test for a G2 Licence. Improving driving skills is a never ending process. The more you focus on polishing this skill, the more safe and responsible you can become.