Why do Candidates Fail the G1 Test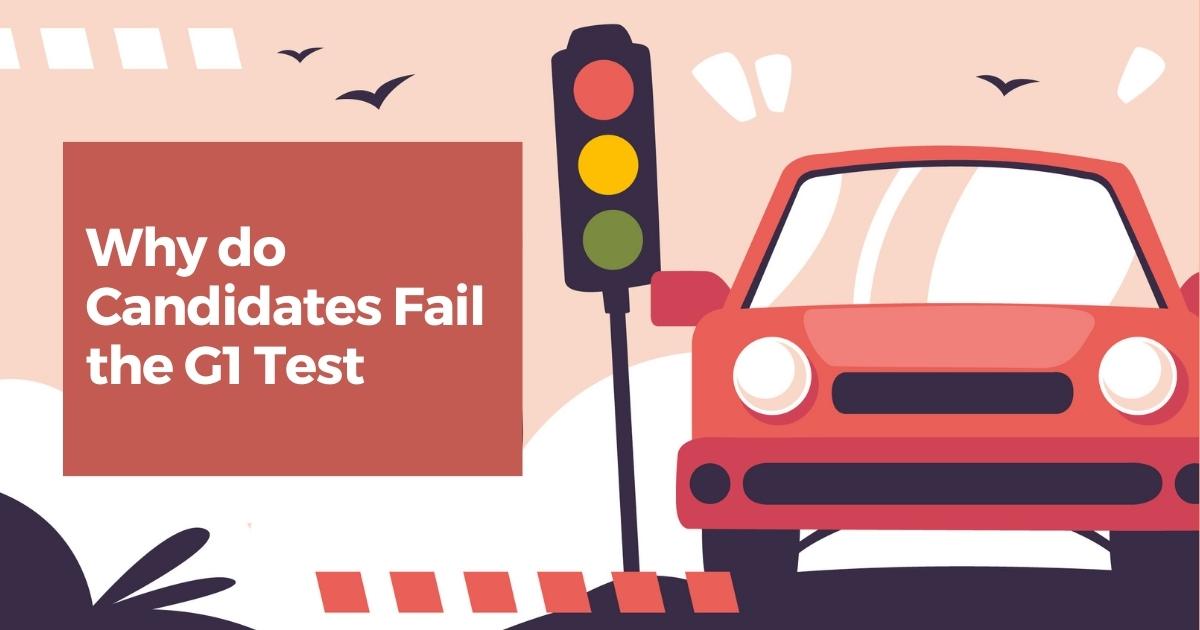 Obtaining a G1 driver's license in Ontario is an important step to become an independent and responsible driver. The G1 knowledge exam isn't as easy as it sounds unless you have studied thoroughly all the road rules, signs and scenarios.
More than 50% of candidates fail in the first attempt but there is nothing to be ashamed of. Here we will discuss some common reasons behind G1 test failures and how we can navigate these challenges more effectively.
Lack of Thorough Preparation
One of the primary culprits behind G1 test failures is insufficient preparation. Many times candidates underestimate the complexity of road rules, scenarios and driving regulations. This leads to confusion in answering the complex questions.
The test comprises random questions selected from a database. It's rare to encounter repeated MCQs. Even if a question is repeated, the order of answers in the multiple-choice questions (MCQs) may vary.
Comprehensive Preparation
Different sources can be used for comprehensive study but the most authentic one is the official Ministry of Transportation (MTO) Handbook. The book covers all the topics that you might encounter in the actual G1 computer-based test. It is essential to understand the book and grasp the concept because all the scenario-based questions are rooted in conceptual understanding.
Try to avoid rote memorization. Memorizing each topic without understanding the concept can backfire. The best way to deal with it is to indulge in group study, where every individual shares his opinion, insight and perspective regarding chapters that are included in the exam.
Ignoring Practice Tests
Many candidates underestimate the importance of the G1 practice test and forget to incorporate it into their study routine. These practice tests include all the kinds of similar questions that you will encounter in the actual exam. Mock quizzes make you familiar with the format of the exam and its difficulty level.
Misinterpretation of Questions
The MCQs that appear in the G1 exam are in a nuanced manner. It takes a lot of effort and analysis to interpret the questions. Do not rush through the answers as it can impact your score in the test. Remember there is no time constraint for the test, so read each question thoroughly, and interpret its meaning before answering.
Read With Attention
The scenarios you practice in the mock tests and the ones you encounter in the actual exam might not be identical, but they are similar. Be careful, while reading each question, comprehend the scenario, and think analytically about similar situations you encountered during your G1 practice tests.
Lack of Focus on Specific Topics
Many candidates overlook the specific topics during their preparation because they might seem challenging. The G1 test encompasses a wide range of topics, including road signs, rules, regulations, and driving laws.
Some questions might encompass all these aspects within a single scenario. If a candidate neglects any specific topic, it could have a significant impact on his performance in the exam. It is important to understand and memorize the official MTO handbook.
Balanced Preparation
Ensure your preparation covers all areas of the G1 test syllabus. Distribute your study time evenly across road signs, rules, regulations, and other essential concepts. It is recommended not to ignore any aspect of your syllabus that can impact your overall performance.
Overconfidence
While confidence is essential, overconfidence can lead to careless mistakes. Many Candidates assume that they know well, do not prepare enough for the exam and provide hasty answers. It is important to remain humble in your preparation process.
Test Anxiety and Nervousness
The last main culprit behind the G1 test failures is the anxiety. Many candidates with good and thorough preparation are unable to score well in the exam. They either get anxious or panic, impacting their own judgment while answering the conceptual questions. Nervousness and anxiety can cloud your thinking and impair your memory.
The only way to combat test anxiety is to not lose confidence and practice various relaxing techniques including deep breathing, visualization, and positive affirmations. You can also desensitize this pressure by taking mock tests.
Bottom Line
Failing the test can be disappointing and discouraging but it is important to find out the reason. The test can be given again so not repeating the same mistake can impact your result. The journey of achieving a G1 driver's license is a learning experience but each setback you encounter is an opportunity to refine your approach and skills.