What are G1 Test Eligibility and Requirements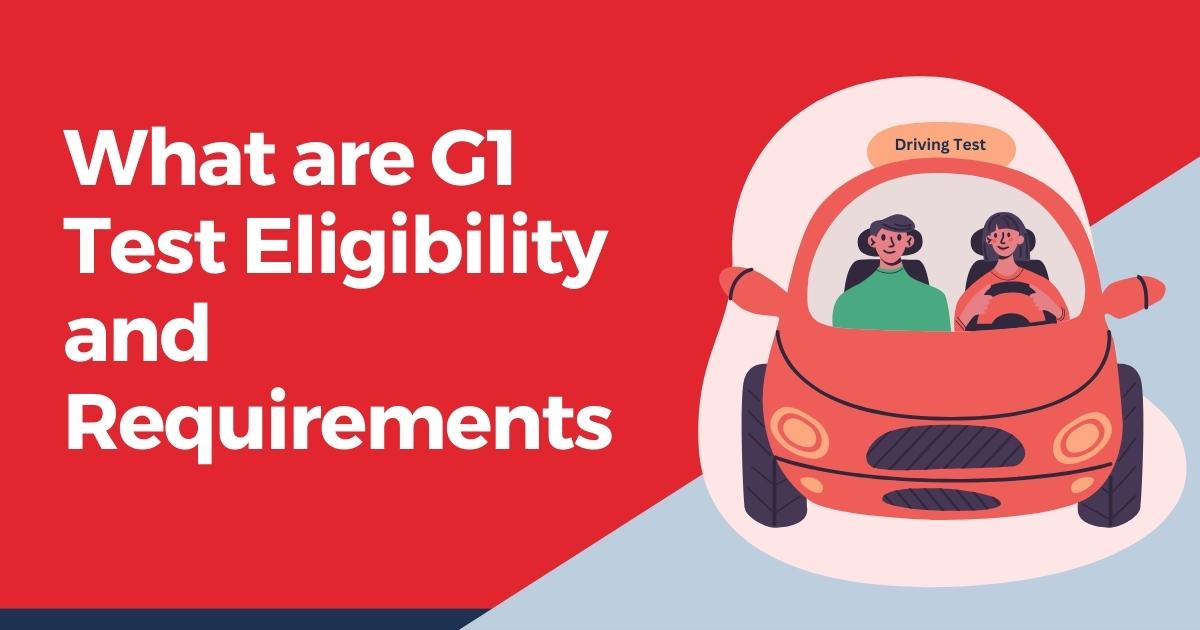 A Lot of people dream of getting a G1 driver's license in Ontario because it gives you independence and mobility on the province's roads. To start this journey of independence, every candidate is required to pass a G1 Test. It is a written examination with 40 MCQs that evaluates your understanding of road rules, traffic signs, and safe driving practices. However not everyone can take this test. You need to pass the eligibility criteria and few requirements to participate in the Ontario's G1 Test. Here we will discuss everything related to this.
G1 Test Eligibility
The first step is to observe if you are eligible to take the G1 exam. Here are the following conditions
Age Requirement
To be eligible for the G1 test in Ontario, you must be at least 16 years old. This age requirement ensures that you are mature enough to take the responsibility of becoming a safe and responsible driver.
Vision Test
After passing the age requirement, you need to pass the vision test to be eligible for the test.
Residency Status
Non-Canadian citizens are also eligible to take the test. Whether you are a Permanent resident, temporary resident, refugee, individual with valid work or hold a student permit, you are welcome to apply.
Requirements for the G1 Test
Following are the Requirements for the G1 Test
Identification
You need to show your original documents that determine your identity. It can be your valid passport, Canadian birth certificate, or any other government-issued identification. Make sure that all of your documents are up to date. If in case, your middle name is not mentioned in those documents, you bring documents like your marriage certificate.
Study Materials
It is recommended to study from the official source, the Official Ministry of Transportation (MTO) Driver's Handbook. The book includes all the topics that are included in an actual G1 Exam. Many candidates also take the G1 practice test in the end before an actual G1 Exam.
Test Fee
The fee covers the cost of the written exam and your first G1 driver's license for 5 years. To learn more about the fee structure, visit the official website.
Booking Your Test
You can either book the test via the official DriveTest website or visit your local DriveTest center.
After G1 Test
Candidates who have passed their G1 Test successfully can drive on the road under the supervision of an experienced driver who has 4 years of experience in driving and owns a Full Class G Licence. There are certain restrictions with the G1 Licence. After 8-12 months, he/she can take the G1 exit test that makes you eligible for a G2 Licence.
International Driving Permit (IDP)
Some individuals use an International Driving Permit (IDP) from their home country before visiting Ontario. Foreign drivers can use IDP to drive in Ontario.
Exchange of License
In some cases, individuals from specific countries may be eligible to exchange their foreign driving licence to the Ontario driver's license without taking the G1 or G2 Test. This eligibility depends on the agreement between Ontario and certain countries.
Foreign Nationals
Foreign nationals who are new residents in Ontario and have a valid driver's license from another country can often use their existing license for a certain period, usually up to 60 to 90 days, depending on their visa status.