G1, G2 and Full Class G : What's The Difference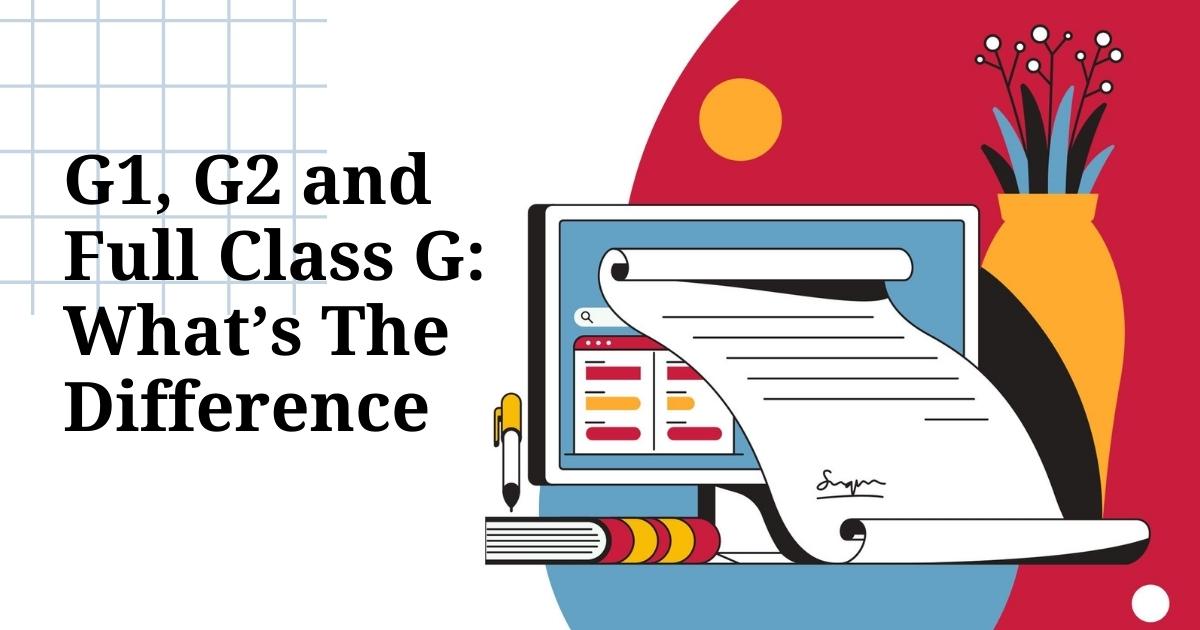 Are you a parent who wants to understand the G1, G2 and G driver's licences for your kids? Are you a teenager who wants to learn more about Ontario's Graduated Driver's Licencing System Guide? You are at the right place.
Becoming a fully licenced driver has various steps that one needs to complete in Ontario. It requires passing the theoretical test and taking the driving test. After that, there is a waiting period of a few months before you can retake another driving test for a Full Class G Licence.
Importance of Graduated Licence
Young drivers are more exposed to accidents due to less or no driving experience. A Graduated Licence is mandatory in Ontario. It gives more time to new drivers to learn about road rules and signs. It also helps them to enhance their driving skills as they learn how to drive in the right environment.
Graduated Licence Steps
To achieve the full class G, you need to pass 3 steps which we will discuss here in detail
G1 Licence
The Ontario G1 test is a computer-based written knowledge test. You will encounter 40 MCQS in each two sections. The first section is based on the Ontario G1 rules test, where you will be asked about road rules. The last section of the G1 Test evaluates your knowledge based on road signs.
All of these questions are from the official MTO Handbook. It is better to memorize and understand the concepts of each topic in the guide. The MCQs in the exam are selected randomly from the database. It also means that there is less chance for any question to get repeated from the previous paper. To learn more about the fee of the test, click here.
Many people experience anxiety during the exam despite having good and thorough preparation. To prevent this, you can give mock tests online. They can help you relieve the pressure and increase your confidence.
Driving with G1 Licence
A G1 Licence is a driver's permit so it comes with few interesting limitations.
You can't drive on the highways unless you have a driving instructor.
The THC and alcohol levels in your blood should be none.
You can't drive alone unless you are supervised by someone who owns a Full Class G Licence.
You can't drive between midnight and 5 am
You are eligible to take driving test after 12 months
You can also take the driving test after 8 months in case you passed an approved driving course
In case you don't follow these requirements, you will be subjected to fines and penalties. Your driving licence can also get suspended. This can also impact your car insurance quote.
G2 Licence
The G1 driving test is also called the G1 exit test or G2 test. It is a driving test in which you will be accompanied by the driving test instructor who will observe your every move. G2 Licence can give you more freedom than G1 Licence but less freedom than Full Class G.
The THC and alcohol level in your blood should be 0%
You can drive unaccompanied if you are 20
If you have a driving instructor with you then there is no restriction
If you are 19 and not accompanied by an experienced supervisor, you must carry a limited number of passengers. For the first 6 months, you can carry one passenger. In the last 6 months, you can have three passengers who are either 19 or younger.
After one year, you will be eligible to take the Full Class G Licence Test.
Full unrestricted G license
After one year of having a G2 licence, you can take a Full Class G Test. This is it! Your final driving test. Keep in mind you need to book this test here. You have to bring your own car, make sure it is in good condition and has insurance up-to-date.
Demerit points
You are considered a novice driver if you have a G1 or G2 Licence and there are some restrictions that you can adhere to. If you have 6 to 8 demerit points, you are subjected to a 60-day suspension. However, if you hold a Full Class G Licence, you will only face suspension, if you accumulate 15 demerit points within 3 years.