Frequently Asked Questions: G1, G2, & G License Ontario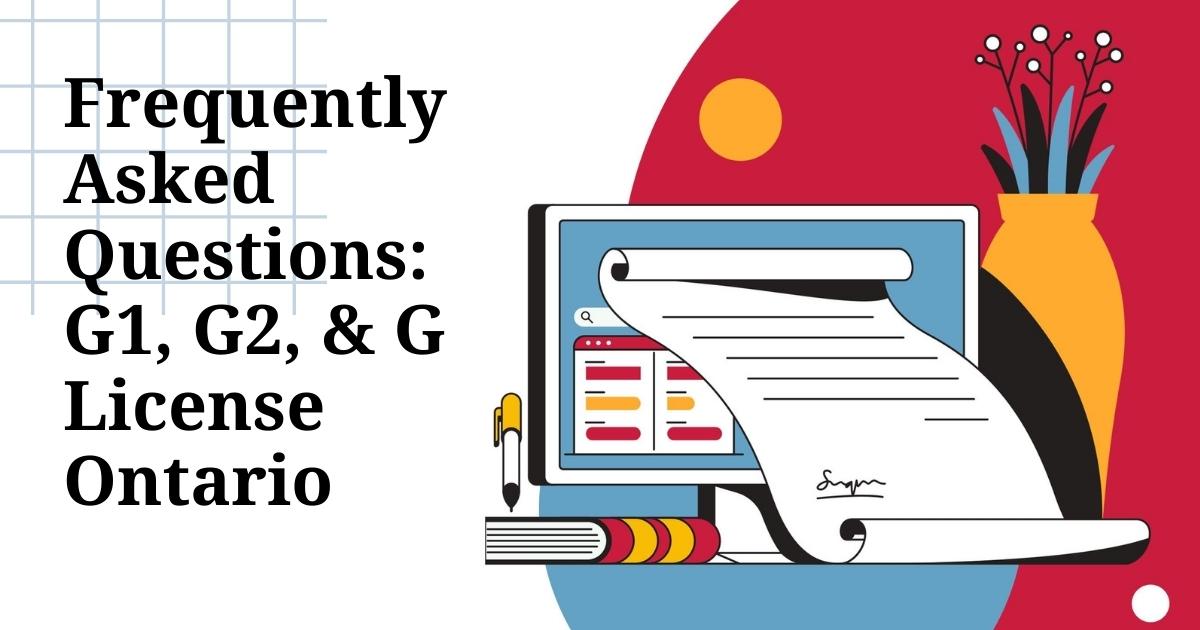 When it comes to obtaining a driver's license in Ontario, the process can sometimes be seen as daunting as there are many rules, tests, and requirements. Whether you're a new driver or an experienced one moving to Ontario, understanding the licensing system is mandatory. Here we will give answers to various answers concerning G1, G2, and G licenses in Ontario to help you navigate this journey with confidence.
What exactly is a G1 license, and who is eligible for it?
A G1 license is the first step in Ontario's graduated licensing system. It is the computer-based test that, if passed, will make you eligible for a G1 License. It's designed for new drivers who have little to no driving experience. To be eligible, you must pass the eye test and should be at least 16 years old. If you are under 18, you should have proof of parental or guardian consent. A G1 License is a driver's permit and is valid for 5 years. You can drive your vehicle but under the supervision of someone who has at least 4 years of driving experience and has a Full G Class License.
How Can I Prepare for the G1 Test?
Ontario's Official Driver Handbook is the official source of test preparation. It costs $14.95. You can get the handbook online through ServiceOntario, from a retail store or from the DriveTest center where you have to pay in cash. It covers all the essential road rules, signs, and driving regulations you need to know. It is also recommended to take G1 Practice Tests that are available only and are free of cost. These tests include MCQs with the same format and similar difficulty level that you will encounter in an actual exam.
What Documents Are Required for the G1 Test?
You need to bring the following documents to the test center.
Payment fee
Eye exam certificate or document
Proof of identification: It can include your ID card, passport, birth certificate, citizenship card, or immigration documents.
All of these documents should be valid and original with your signature on it.
If your documents do not include your middle name, then you can show other documents like a marriage certificate or a health card.
Where to Apply for the G1 Test
You have two options for taking the test:
DriveTest Center: You can choose to visit a DriveTest center to take the test. No prior appointment is necessary for this option.
ServiceOntario Bay and College Location: Another option is to schedule an appointment at the ServiceOntario Bay and College location in downtown Toronto to take the test. This allows you to select a specific time slot for your convenience.
How Much Does G1 in Ontario Cost?
The G1 knowledge test costs $158.25. It is a complete package that includes a G1 theoretical test, a G1 driving test, and a five-year license. To learn more about cost, visit the official website here.
What's a G2 license
After you pass the G1 test, you will be required to take the G1 driving test, also known as the G1 exit test or G2 test. Unlike the G1 license, you get the following freedom with G2 License
Drive on highways
No need to be accompanied by an experienced driver
If you are above 19, you can drive at any time
However, even with this license there shouldn't be any drug or alcohol in your body when you are driving.
If you are 19 or below
You should be accompanied by a fully licensed driver
The passengers in your vehicle should be your immediate family members
After 6 months of having this license, you can carry 3 passengers in your vehicle who are 19 or below.
What is the G1 Driving Test Like?
You will drive on the major roads and express highways including merging on and off. You also have to observe your speed limit, spacing traffic lights and more. The driver test instructor will also evaluate how you turn, overtake, change lanes, and drive at intersections and business areas.
You also have to pass the following tasks during the driving tests
Parallel parking
Roadside stops
3-point turn
Driving in residential neighborhoods
What Will Happen If My License Is Expired?
If your G1 or G2 License is expired, you need to start all of this process again.
How to Book the Road Test?
You need an appointment to take the road tests. During the appointment, you have the opportunity to select the first, second and third choice of location to take the test. You can also select the date and time based on the slots available.
You can book, reschedule or cancel the road test appointment via the following medium
Contant 647-776-0331 or 1-888-570-6110
Online
At any DriveTest Centre
If you cancel your appointment 48 hours before your appointment, your fee will be refunded.
How long does it take to get G1 to G?
From G1 to G, it takes 12 months (or 8 months if you've completed an approved driver education course). From G2 to G, it will take one year for you to get eligible for a Full Class G License. This license provides no restriction and makes you an independent driver.