Creating the Perfect Plan for G1 Exam Success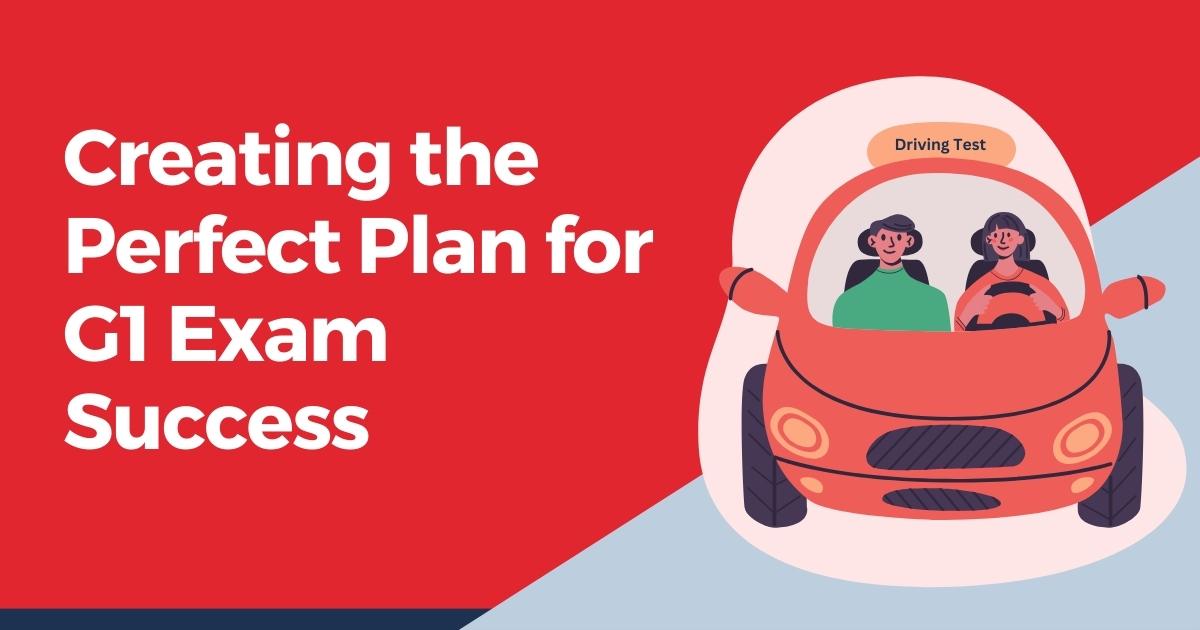 There are 3 types of license for driving in Ontario, Canada. G1, G2 and Full Class G. To start this journey, candidates are required to give the G1 Test, a theoretical test that includes real life based scenarios. To score well in the G1 exam, you need diligent preparation and a well-thought-out plan to ensure success. Passing the G1 test gives you access to the G1 Licence, which is also called a driver's permit.
Understand the G1 Exam
The initial and most important step is to familiarize yourself with the exam's pattern. The test has two sections. Each section has 20 questions that cover road rules, road signs, and safe driving practices. To successfully pass the exam, you must provide accurate answers to a minimum of 16 questions in each section. Knowing what to expect can help you to make a better study plan,
Create a Study Schedule
The G1 exam is not easy. More than 50% of candidates go for a second attempt. The questions are challenging. Time management is key to its preparation. Develop a study schedule that outlines when and how long you'll study each day. Stick to your schedule consistently and give extra time to the topics that you find difficult to learn.
Set Clear Goals
Define your goals and objectives for the G1 exam. Your goal isn't to get the Licence just to drive. You should strive to become a better and more responsible driver. It also means that you are always ready to improve theoretical knowledge and driving skills whenever it is needed.
Access Reliable Study Materials
Gather reliable study materials, including the official Ministry of Transportation (MTO). The MTO handbook should be your primary resource for learning as the book covers every aspect of the syllabus that candidates encounter in an actual exam.
The book covers the following topics
Road Signs and Signals
Driving Rules and Regulations
Driving Techniques
Parking
Driving in Special Conditions
Road Safety and Defensive Driving
Sharing the Road
Emergency Situations
Driver Responsibilities
Licensing and Documentation
Make sure you take important notes, highlight information and understand all the diagrams or illustrations.
Practice, Practice, Practice
Practice tests are your best friends when preparing for the G1 exam. You can get access to free G1 practice tests online. Take mock tests to reinforce your knowledge and get a feel for the types of questions you'll encounter. Pay attention to areas where you struggle and focus on improving them. Give a mock test in a separate space where there is no sound or distraction. Give all of your undivided attention and create a focused testing environment.
Studying with Colleagues
One of the best collaborative approaches to learning is group study. Here individuals share their knowledge, concepts and insight into various topics. Many times your study buddy can make challenging topics much easier to grasp through discussing interpretations and diving deep into explanations. Individuals who prefer group study are always on track with their studying schedule. You can also take insight from the people who have already passed the test as they know which topics need more focus.
Stay Calm and Confident
It is important to stay motivated and have a positive attitude towards tests. Taking mock quizzes in a simulated environment can reduce the pressure. In case you easily get anxious and panic, start practicing various relaxing techniques including
Quick Body Stretches can increase blood flow
Stay Hydrated can exacerbate stress
Concentrate on one question at a time
Mindfulness and Meditation allow you to be more present in a moment
Deep Breathing reduces anxiety and panic attacks
A lot of people chew gum or mint, which keeps them alert and focused during the exam
Remember that different techniques work for different people, so it's essential to find what works best for you.
Creating the perfect plan for G1 exam success requires dedication, discipline, and effective study strategies. Plan what works best for you based on your schedule.