Best Resources to Help You Prepare for the G1 Theoretical Test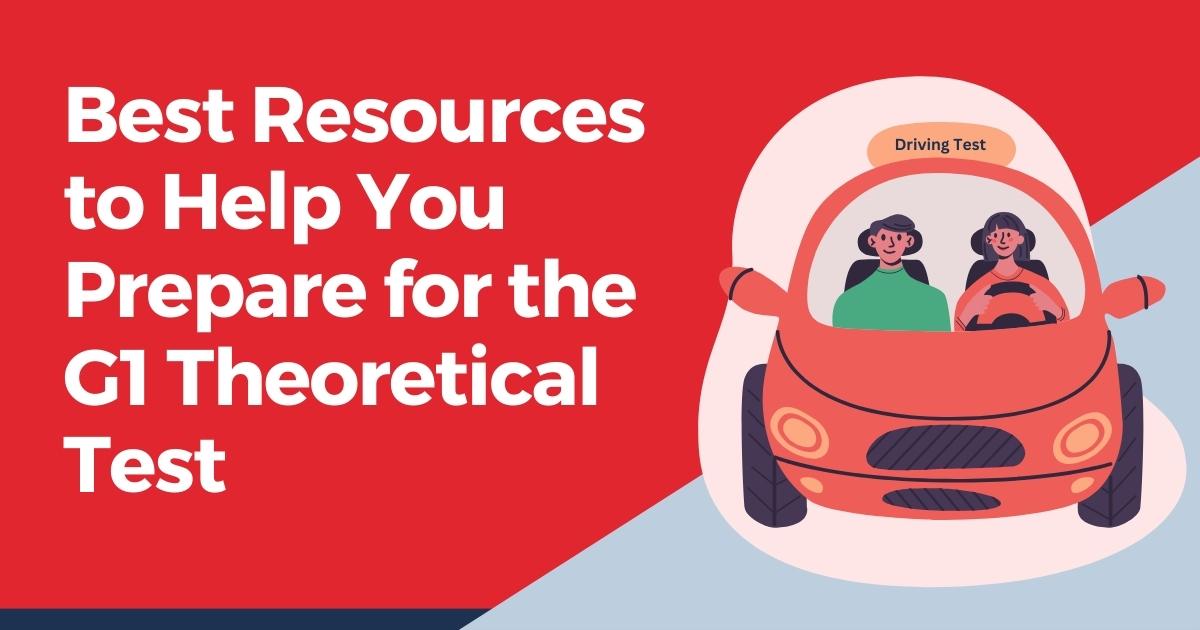 If you want to drive in Ontario, the chances are that you have already started to make your study plan for the G1 Test. The test needs a lot of thorough preparation as it includes road signs, road rules and various hypothetical scenarios. More than 50% of candidates are unable to score well in their first attempt. However, do not let this disappoint you. With good preparation and reliable study material, you can ace the exam with great ease.
Understanding G1 Test Format
The G1 Test has two sections. One section includes 20 MCQs based on Rules of the Road and the other has 20 MCQs related to the Traffic Signs. It is mandatory to answer at least 16 questions accurately in each section. Failing to do so in either section results in an overall failure of the test. Keep in mind there is no time duration to the test so read each question carefully before answering. The test is also streamlined, which means that you can't go back to the previous MCQ.
How to Prepare for the G1 Test
There are many resources that you can use for test preparation. The free ones include The Official Ministry of Transportation (MTO) Driver's Handbook that covers all the topics included in the test. This is also the most reliable source of knowledge. The paid ones include G1 prep courses offered by official driving schools. To enhance your preparation, you can also give various mock quizzes.
The MTO guide can help you alot in learning road signs and rules but the MCQs in the G1 exam are conceptual and challenging. To overcome this, you also need to study from additional sources. It is essential to make a comprehensive and structured approach to learning for the G1 test.
Whatever method you choose for the preparation, keep in mind to understand the underlying concept and increase your understanding. This will help you in guessing the accurate answer.
How Much Time Should I Dedicate
The time required to complete the G1 Test preparation course can vary significantly from one candidate to another. Candidates who are already familiar with traffic laws and rules may only need a few hours to complete the course. However, individuals who are new to driving and require more in-depth study to pass the G1 exam may need several days to fully complete the course.
Preparation Resources
Here are a few preparation resources that you can use
The Official MTO Driver's Handbook
The Official MTO Driver's Handbook is preferred by almost all candidates who want to gain independence on the road. The book is easy and is in simple language. It has colorful illustrations to help you visualize. The book covers all the important topics including traffic signs, rules, driving rules, sharing the road, driver's responsibility, emergency situations, laws and penalties and more.
Youtube Lectures
Many candidates who have successfully passed the G1 Test recommend various YouTube channels as helpful resources. These channels cover the syllabus that is aligned with the guidelines of the MTO handbook. One of the significant advantages of these channels is that they are free of cost and can be accessed at any time. However, relying solely on this source will not be enough for comprehensive preparation.
G1 Practice Test Ontario
While we prefer not to be overly self-promotional, we have made a platform that offers various services including a reliable G1 practice test that has been used by thousands of our users. Our G1 prep course with 700+ questions covers all the syllabus and mirrors the difficulty level and format of an actual G1 exam. For candidates who are struggling with free resources and want to learn more from external resources other than the MTO guidebook, our platform provides a valuable option for preparation.
The Bottom Line
The more prepared you are, the more confident you can feel during the exam. There is a wide spectrum of resources you can use to gain knowledge and enhance your understanding. If you are someone who gets anxious during the exam even though you are well-prepared, we recommend giving mock tests. They boost confidence and let you know your weak areas that need more focus.