Are G1 Practice Tests Worth It?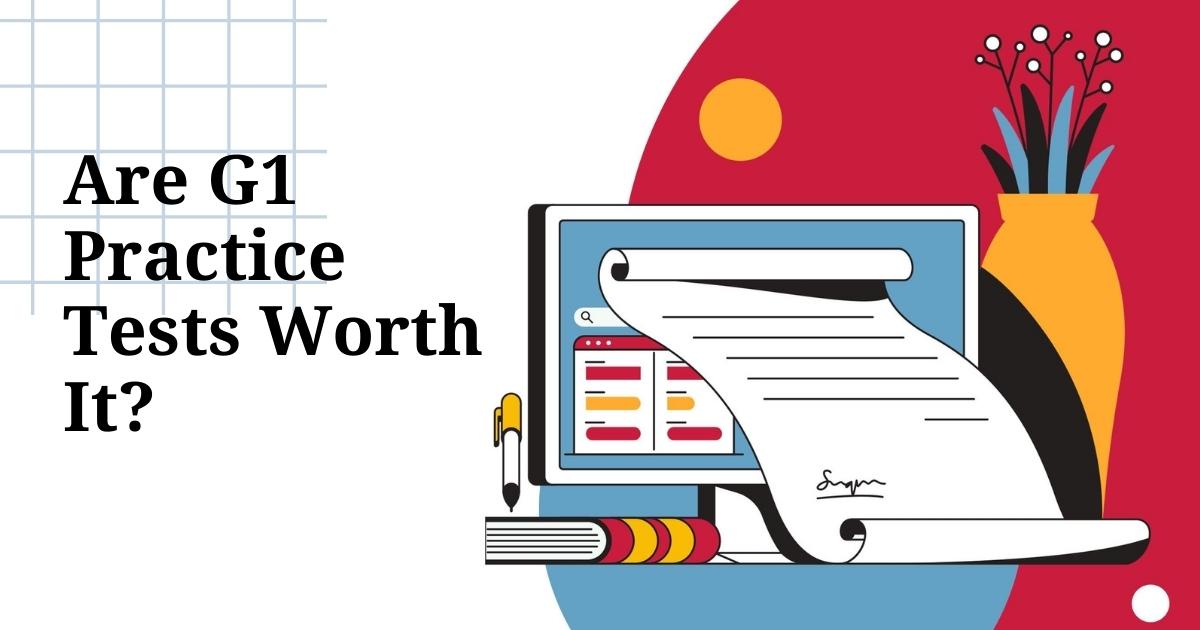 Obtaining a G1 driver's license in Ontario can be a challenging but significant milestone on the journey to becoming a skilled and responsible driver. There are various resources available for preparation but the most popular and reliable one is G1 practice tests. However, you might wonder whether investing time and effort into these practice tests is truly worth it. Here we will explore the Ontario practice test and how it can contribute to your success in an actual exam.
Before discussing the topic in detail, we will first understand the structure of the test. The Ontario driving test is computer-based and has no time duration. There are 40 questions in total which are divided into two sections. To pass the exam, you must answer 16 questions correctly in each of these sections.
This might sound easy but the chances to score well without preparation is very rare. The MCQs are conceptual with real life scenarios so it is recommended to prepare from the updated official MTO Handbook. The book covers all the main topics related to road signs, rules, regulations and Ontario driving laws. Our Ontario practice test is designed in the same way. They have all kinds of questions that can help you to retain concepts.
G1 Practice Test: What They Offer
Driving practice tests come with various benefits including
Real-World Simulation
What is the purpose of a mock test if it does not include questions similar to those in the actual exam? The G1 practice test has the same format, style, difficulty level and structure of an actual Ontario driving test. Engaging with this simulation can give you a glimpse of what to expect on the exam day.
Identifying Weaknesses
Practice tests serve as diagnostic tools. Giving the driving practice test after preparing from the handbook will let you know your weak areas. This allows the candidates to allocate their study time more effectively.
Practice Makes Perfect
Learning all the road signs and rules can be quite a challenge. However, taking repetitive mock tests many times can help you retain this information as repetition aids in effective memorization.
Updated Questions
The Ministry of Transportation (MTO) is always subjected to amendments as the rules and regulations concerning driving keep on changing with time. Our questions in the mock test follow the same standard guidelines. We update the questions when required and make sure that our G1 Test is accurate and up-to-date.
Feedback and Correction
The instant feedback has made preparation more easy and can not be overstated. The real-time feedback instantly lets you know about the answer you selected, allowing you to learn from your mistakes immediately. You do not have to wait till the end of the test to find your mistakes as you get an immediate notification. This transformative feature streamlines your learning process and sharpens your test-taking skills.
Moreover, the feedback provides more than just a "wrong answer''. It offers the correct answers to the MCQs that you found to be challenging. This enhances your understanding and reduces the likelihood of making the same mistake again. You can also further explore questions that are similar to the ones you found in your challenge bank.
Challenge Bank
The challenge bank is a ground breaking tool that stores the questions you've answered incorrectly. It identifies your weak points and allows you to focus on your weak areas. This personalized repository acts as an opportunity for you to not repeat the same mistakes in an actual exam.
Test Day Confidence
As you accumulate correct answers and rectify mistakes during practice, you expand your concepts and knowledge. This subconsciously builds confidence on the day of the G1 test, ensuring you are mentally prepared for the test. The more prepared and confident you are during the test day, the more you can perform better.
Final Verdict
The G1 practice test is worth the time and effort. It bridges the gap between theoretical knowledge and practical application. It makes you confident in your preparation. Many candidates used our platform for test preparation and have gained success in achieving a driving license. G1 test offers diverse benefits including Challenge Bank, real-time feedback , simulating the test environment, and much more.